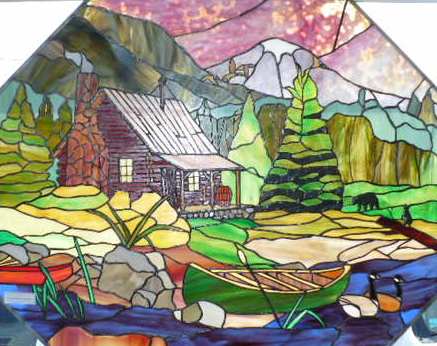 A Touch of Glass is a Full-Service Stained Glass Studio in Canton, Texas since 1982.
Who We Are:
A Touch of Glass studio was opened in Canton, Texas in 1982 by Bob Wheeler. Bob ran the studio, teaching classes and making custom stained glass pieces for homes, businesses and churches all over the East Texas area. In 1996, Tom Moore began learning the craft from Bob and started lending a hand on large projects. Eventually Tom became a partner in the business. Bob later retired and moved to Ft. Worth. He passed away in May of 2014. Tom carries on the work in Canton. In 2009, we went from being a full-time studio with a store location in Canton, to a part-time studio, working out of a glass shop behind Tom's house. We are still able to offer a full range of stained glass services, but appointments are now required.
What We Do:
We specialize in custom stained glass and etched glass pieces for homes, businesses and churches. We also build customized, family-tree garden benches, engraving names in the glass design on the bench surface.
Contact Us:
Pnone: 903-262-5240 . email: tom@cantonartglass.com